Regular price
Rs. 900.00
Sale price
Rs. 810.00
Unit price
per
Sale
Sold out
Introducing "Just Shred" - a potent supplement designed to revolutionize your sleep quality and maximize your fat burning potential. With Just Shred, you can achieve rejuvenating rest and wake up ready to conquer the day ahead.

Benefits 
Promotes high-quality sleep
Facilitates faster onset of REM sleep
Enhances relaxation and reduces stress
Supports optimal fat burning during sleep
Helps maintain muscle mass while promoting energy production
Optimizes sleep-wake cycle for consistent and rejuvenating sleep
Aids in weight management and body composition goals
Enhances overall sleep quality for better recovery and well-being
Complements a healthy lifestyle, exercise, and balanced diet
Energizes and refreshes you for the day ahead
Product overview 
By taking two capsules before bedtime, Just Shred works harmoniously with your body's natural rhythm to promote relaxation and facilitate faster onset of REM sleep - the stage associated with deep, restorative rest. Experience a truly refreshing sleep that leaves you feeling revitalized upon waking.

What sets Just Shred apart is its powerful blend of natural ingredients carefully selected to optimize fat burning during your sleep. This unique formula combines magnesium, ashwagandha, melatonin, GABA, CLA, and L-Creatine, working synergistically to prime your body for optimal weight management while you rest.

Magnesium and ashwagandha help to relax the mind and body, reducing stress and promoting a calm state conducive to quality sleep. Melatonin, the sleep hormone, regulates your sleep-wake cycle, ensuring a more consistent and rejuvenating sleep pattern.

GABA (Gamma-Aminobutyric Acid) acts as a neurotransmitter, promoting a soothing and tranquil feeling, further enhancing your sleep quality. CLA (Conjugated Linoleic Acid) aids in fat metabolism, supporting the body's natural fat-burning processes during sleep. L-Creatine helps preserve muscle mass while promoting energy production, contributing to an optimal body composition.

Just Shred is the ultimate companion for fitness enthusiasts and those striving to reach their weight management goals. It not only supports your body's fat-burning mechanisms during sleep but also enhances your overall sleep quality, which is crucial for recovery, muscle growth, and overall well-being.

Take your fitness and sleep routine to the next level with Just Shred. Wake up refreshed, energized, and ready to embrace the challenges that lie ahead.
 Ingredients 
NIGHT-TIME RECOVERY COMPLEX: GABA (Gamma Aminobutyric Acid), Chamomile (Matricaria recutita) Flower Powder, Passionflower (Passiflora incarnata) Powder, Valerian (Valeriana officinalis) Root Powder
DEEP RELAXATION COMPLEX: Ashwagandha Extract (Withania somnifera), Jatamansi Extract, Brahmi (Bacopa monnieri), Sarpagandha (Rauvolfia serpentina) Extract, Cayenne Pepper
PM FAT-BURNING COMPLEX: Grains of Paradise (25mg), (Aframomum melegueta) Seed Extract, CLA (Conjugated Linoleic Acid Complex). L-Carnitine Tartrate
MOOD ENHANCEMENT COMPLEX: 5-HTP (5-hydroxytryptophan) (HT Purity), L-Tryptophan
MELATONIN
Share
View full details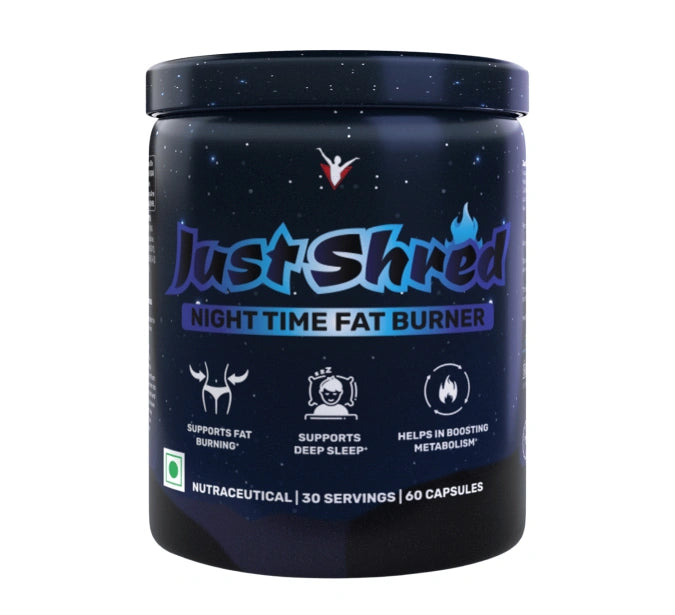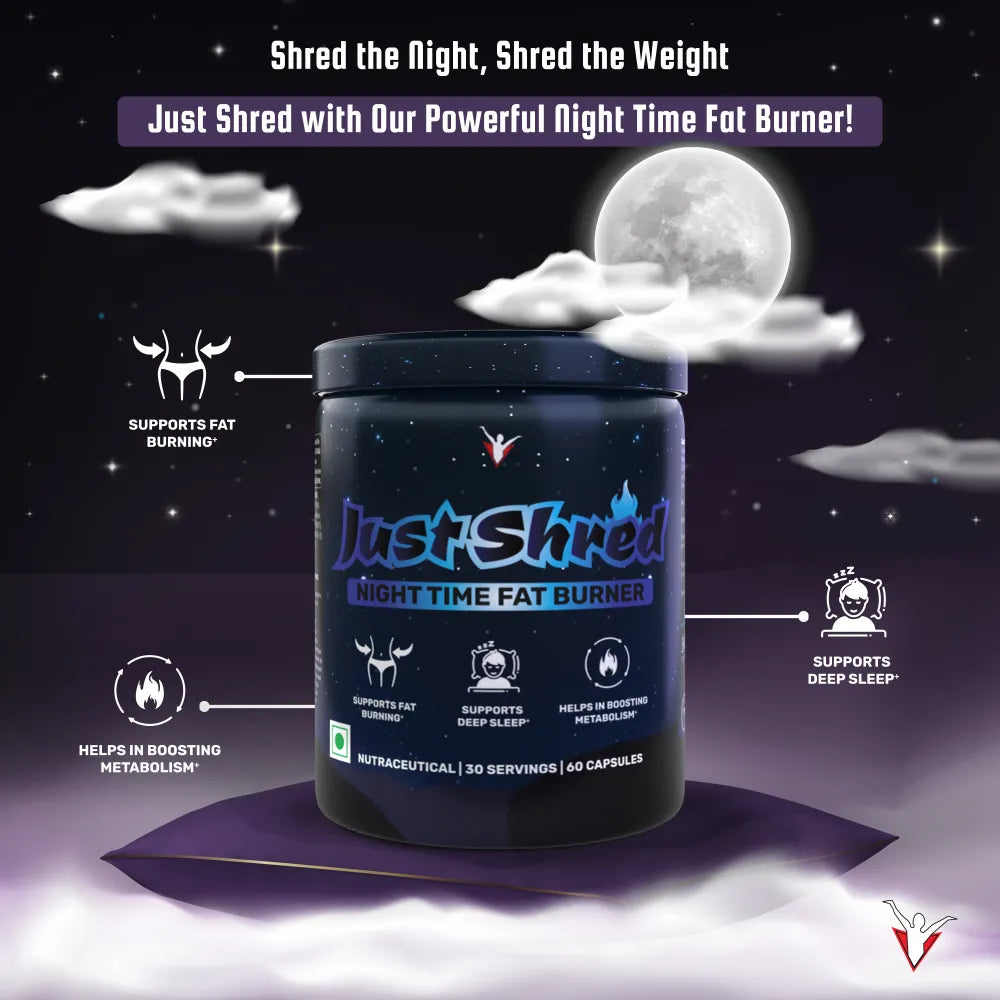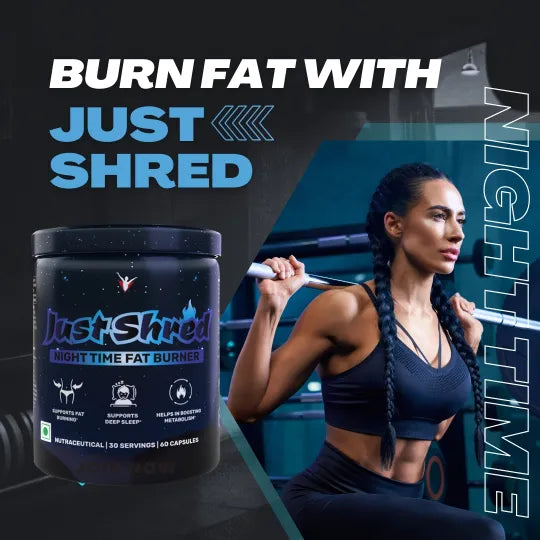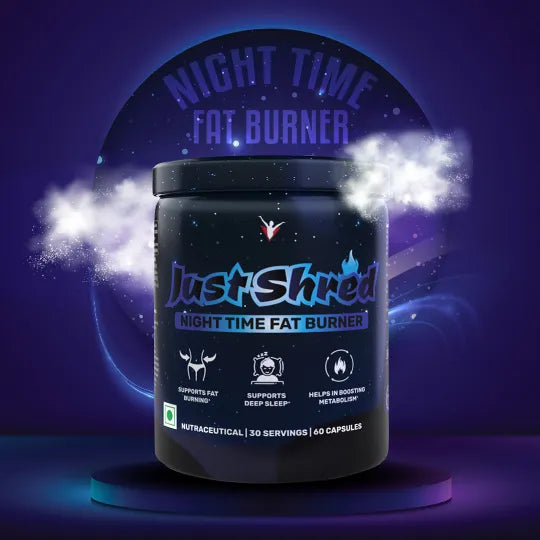 Secure Payments

Vitaminberry assures 100% secure and safe transaction without any hassle or difficulties

Easy Exchange

With our easy exchange and reture policy you can always return our products within 7 days.

Free Shipping

Now just pay for what you ordered. Get your products delivered without any delivery charges