Regular price
Rs. 949.00
Sale price
Rs. 850.00
Unit price
per
Sale
Sold out
Introducing our groundbreaking product: the "Just Shred" - an extraordinary formula designed to enhance your overall well-being and support your weight management journey.
Benefits 
Enhanced Weight Management
Increased Energy Levels
Improved Fat Burning
Metabolism Boost
Regulation of Hypertension
Antioxidant Protection
Support for Weight Maintenance
Overall Wellness Benefits
Product overview 
The Just Shred is carefully crafted with a profound blend of antioxidant-rich constituents, including green tea, caffeine, and kokum. This unique combination works synergistically to stimulate the nervous system, providing a gentle energy boost and potentially aiding in calorie burning.

Harnessing the power of green tea and green coffee extract, our formula is packed with polyphenols such as catechins. These bioactive compounds have been extensively studied and shown to have remarkable fat-burning properties. They promote thermogenesis, increasing the body's calorie expenditure both during physical activity and at rest.

By working in harmony with caffeine, the Just Shred accelerates metabolism, igniting the body's ability to convert stored fat into usable energy. This natural process not only promotes weight loss but also supports sustainable weight management.

Moreover, our formula offers additional health incentives beyond its slimming effects. The inclusion of green tea and other ingredients is known to help regulate hypertension, contributing to better cardiovascular health. The potent antioxidants in green tea also provide cellular protection and overall wellness benefits.

The Just Shred is formulated with utmost precision, ensuring the highest quality and efficacy. We prioritize sourcing premium ingredients and maintaining rigorous quality control standards to deliver a product you can trust.

Embrace a healthier, more energized you with the Just Shred. Begin your journey towards a well-balanced lifestyle, supporting weight management while reaping the numerous health benefits it offers.
 Ingredients 
GREEN TEA EXTRACT, CAFFEINE ANHYDROUS 99%, FORSKOLIN EXTRACT (MAKANDI), CARALLUMA FIMBRIATA(YUGMAPHALLOTTATNA), BOERHVIA DIFFUSA EXTRACT (Hogweed), GARCINIA CAMBOGIA EXTRACT (kokum), CAPSICUM EXTRACT, BLACK PEPPER EXTRACT, GREEN COFFEE EXTRACT, L-CARNITINE, L-TARTRATE, RHODIOLA ROSEA EXTRACT(ARCTIC ROOT)
Share
View full details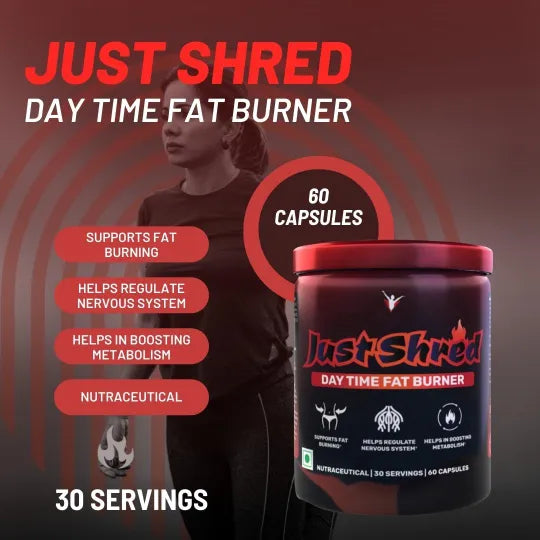 Secure Payments

Vitaminberry assures 100% secure and safe transaction without any hassle or difficulties

Easy Exchange

With our easy exchange and reture policy you can always return our products within 7 days.

Free Shipping

Now just pay for what you ordered. Get your products delivered without any delivery charges