Regular price
Rs. 3,199.00
Regular price
Rs. 3,999.00
Sale price
Rs. 3,199.00
Unit price
per
Sale
Sold out
Introducing Genetic Nutrition Mass Attack: Your Ultimate Weight Gain and Muscle-Building Formula!
Are you looking to achieve your weight-gain and muscle-building goals? Look no further than Genetic Nutrition Mass Attack! With over 700 calories per serving and a whopping 28g of high-quality protein, this Hi-Calorie, Hi-Protein formula is tailor-made to support your muscle recovery and aid in gaining muscle mass. Whether it's your post-workout shake or a fulfilling between-meals option, Mass Attack is the ideal choice to help you reach your desired size and muscle targets.
Benefits 
Contains over 700 calories per serving and 28g of protein for muscle recovery.

Hi-Calorie, Hi-Protein blend for post-workout and between-meals shake.

Optimal mix of ingredients to achieve weight-gain goals.
Product overview 
1. High-Quality Protein: Each serving of Genetic Nutrition Mass Attack delivers more than 28g of premium protein, providing your body with the essential building blocks it needs to support muscle growth and development.

2. L-Glutamine for Recovery: Mass Attack includes L-Glutamine, a crucial amino acid that minimizes muscle breakdown, enhances protein metabolism, and aids in quicker recovery after intense workouts.
3. Creatine for Strength and Mass: With the addition of Creatine, Mass Attack helps increase muscle mass and strength. Scientific research has shown that creatine supplementation can effectively double strength and promote lean muscle gains.
4. Digestive Enzyme Blend (DIGEZYME): To enhance protein digestion and reduce bloating, Mass Attack contains a specialized digestive enzyme blend called DIGEZYME, ensuring optimal absorption of nutrients.
5. High Calories Per Serving: The substantial calorie content per serving is a key factor in stimulating muscle protein synthesis and mass growth. Mass Attack provides the energy your body needs to fuel your muscle-building journey effectively.
 Ingredients 
Maltodextrin (66%),Whey Protein Concentrate (14%),Casein and caseinate (1%),Creatine (1.65 %),L-glutamine (1.65%),Enzymes blend DigeZyme(Protease,Cellulase,lactase,amylase,lipase,Whey Protein Isolate (0.55%),Milk solids (6.6%),Milk Protein Concentrate (0.55%),Cocoa Solids (2.20%),Nature Identical Flavour (Kulfi),Medium Chain Triglycerides(2.5 %),Common Salt ,Vitamin and Mineral Blend,Stabilizers,Sweetener,Anticaking Agent.

Share
View full details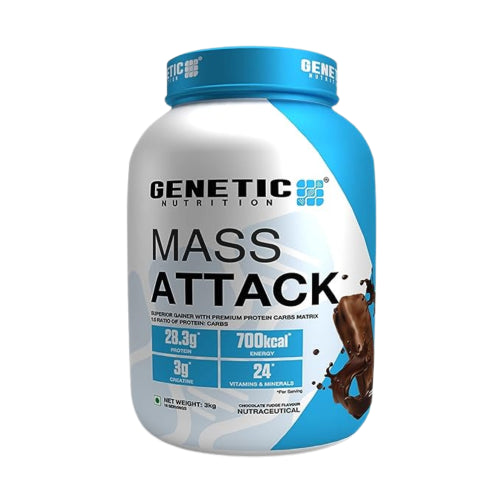 Secure Payments

Vitaminberry assures 100% secure and safe transaction without any hassle or difficulties

Easy Exchange

With our easy exchange and reture policy you can always return our products within 7 days.

Free Shipping

Now just pay for what you ordered. Get your products delivered without any delivery charges