Regular price
Rs. 999.00
Sale price
Rs. 750.00
Unit price
per
Sale
Sold out
Experience peaceful nights and rejuvenated mornings with VitaminBerry Do Not Disturb. Our carefully crafted formula is designed to promote relaxation, calmness, and a healthy sleep cycle, ensuring you wake up feeling refreshed and ready to conquer the day. Say goodbye to restless nights and embrace a soothing slumber.
Benefits 
Relaxation Aid: Promotes a calm and relaxed state.

Quick Sleep Initiation: Helps you fall asleep faster.

Enhanced Sleep Quality: Improves the overall quality of your sleep.

Jet Lag Relief: Alleviates the effects of jet lag.

Daytime Alertness: Reduces daytime sleepiness.

Natural Ingredients: Made from carefully selected natural ingredients.

Non-Habit Forming: Designed to be non-addictive.

Restorative Rest: Aids in rejuvenating and restorative sleep.

Suitable for All: Ideal for various lifestyles and age groups.
Product overview 
Enhanced Relaxation: VitaminBerry Do Not Disturb helps you achieve a state of relaxation, making it easier to unwind and prepare for a restful night's sleep.

Improved Sleep Quality: By promoting a healthy sleep cycle, this supplement aids in falling asleep faster and enhances the overall quality of your sleep, leaving you revitalized each morning.

Jet Lag Relief: For those constantly on the move, this product helps mitigate the strain caused by jet lag, ensuring you can adapt and maintain your regular sleep patterns seamlessly.

Daytime Alertness: By ensuring a restful sleep, this supplement helps reduce daytime sleepiness, allowing you to be more alert, focused, and productive throughout the day.
 Ingredients 
HPMC capsules, Anticaking Agent (INS 551), Glazing Agent (INS 553), Glidant (INS 470), Starch, and Bulking Agent (INS 460 (i).
Share
View full details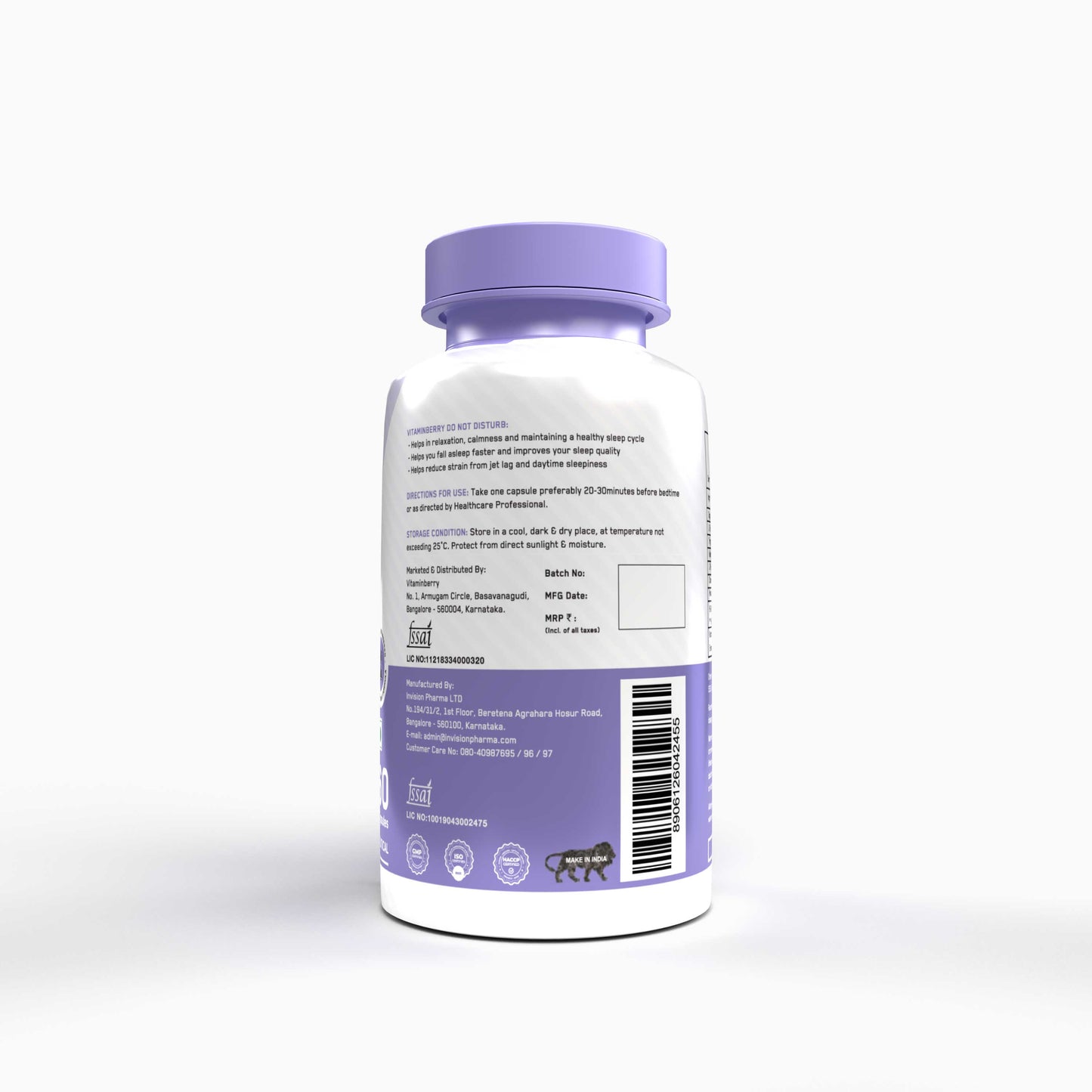 Secure Payments

Vitaminberry assures 100% secure and safe transaction without any hassle or difficulties

Easy Exchange

With our easy exchange and reture policy you can always return our products within 7 days.

Free Shipping

Now just pay for what you ordered. Get your products delivered without any delivery charges